Slotmamba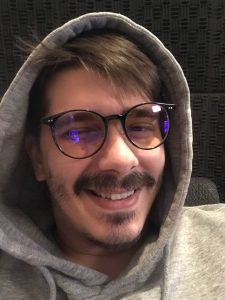 Slotmamba is a gambler since the tender age of 9. Still a kid at heart, always up for some silly fun, he's energised and ready to go from the moment he wakes up until he goes to bed.
His nickname combines his two passions, as he's particularly fond of slots, but he does consider sports betting to be the king of gambling and his love for the NBA is well-known.
He loves interacting with the community and bringing joy. He does proudly wear the hat of the party clown, as giving people joy is sort of his… fetish! If you are faint-hearted, or if you just wanna go for sleep, then Slotmamba isn't your kind of streamer. If what you want is loud fun, an adrenaline rush, and some lough till you cry moments, then you're in great hands. Visit our Twitch and Youtube channels for five live streams weekly.
Some Slot Mamba Fun Facts
He is the first slots streamer in Greece, with his shows dating back to April 2018.
For years he was a Play n' Go fanboy, playing their titles religiously. Nowadays, he believes that Pragmatic has claimed the top spot among providers.
His white whale is "breaking" a Pragmatic title. His goal is to have a 5000x spin on Gates of Olympus, as he's got unfinished business with his compatriot, good ol' Zeus.
His biggest win was on a Hacksaw game when he got a 6750x multiplier on Stack 'em. That remains his favourite game to date.
His record, streaming-wise, was back with his old channel when he had 7000 simultaneous viewers during a session. That's a record we very much hope we'll soon break. After all, Slotmamba is in love with this community and he strongly believes it's the best anyone could dream of.
He started as a viewer himself. He watched Roshtein's slots streams and to this day he respects him immensely. He's his GOAT, not just when it comes to slots, but as a streaming entertainer in general.
He's a devoted bachelor. The only lady that can stand him is Sandy, his cat.
He lives in Thessaloniki, Greece and has travelled all around Europe. Utrecht, the Netherlands, remains his favourite destination.
He's 31 years old, he's 1.80m tall and his shoe size is 42 EU (9.5 US), in case anyone wants to buy him some sneakers.
He weighs 110 kilograms, but he plans to put weight-losing challenges with the chat. Help him reach his goal, please!
He's a smoker and he loves junk food, so the goal above might be tricky…